Is there anything more frustrating than being a regular at the gym, counting calories, and still struggling with stubborn fat bulges? CoolSculpting at our Auburn, CA, medical spa is a solution that attracts women and men from Roseville, Grass Valley, Nevada City, and throughout Gold Country.
What Is CoolSculpting?
CoolSculpting is the only FDA-cleared, nonsurgical fat reduction treatment that uses controlled cooling to get rid of stubborn fat. Dr. Jonathan Freed understands that our bodies do not always reflect our efforts to lead a healthy lifestyle and that certain types of fat resist exercise and dieting.
CoolSculpting's revolutionary, minimally invasive treatment uses the basic science of cryolipolysis to freeze and dissolve unwanted fat cells in trouble spots such as love handles and the abdomen. The lymphatic system naturally flushes dissolved fat cells from the body. We offer multi-machine treatments and easy financing options for the coolest nonsurgical way to reduce fat bulges. Results can be seen as early as 4 weeks, with more dramatic results emerging after 3 to 4 months.
How Much Does CoolSculpting Cost in Auburn, CA?
CoolSculpting treatments typically cost between $2,000 and $5,000, depending on the areas you choose to treat, the amount of fat in the targeted areas, and how many treatments you will need. To meet individual goals, most patients choose to have treatments on multiple areas during the same visit.
Am I a Good CoolSculpting Candidate?
CoolSculpting is an excellent option if you want a slimmer, smoother body shape without surgery. It is not a weight loss treatment, and patients should be at or near the weight they want to maintain and be in good overall health. It's also important that patients understand the procedure doesn't produce immediate results and have realistic expectations about the outcomes.
CoolSculpting Before and After Pictures
Abdomen, after 2 sessions
Lower abdomen, 5 months after second CoolSculpting session
Neck, 8 weeks after CoolSculpting session
Photos courtesy of Dr. Shadan Kabiri
Back, 2 months after CoolSculpting session
Upper arm, 8 weeks after CoolSculpting session
Photos courtesy of Dr. Jay Burns
Thighs, 13 weeks after CoolSculpting session
Photos courtesy of Allergan Training Center East
What Areas Can CoolSculpting Treat?
CoolSculpting's versatility is what sets it apart from other nonsurgical fat reduction procedures. It is cleared by the FDA to treat a wide range of areas, including:
Under the chin
Along the jawline
Abdomen
Flanks ("love handles")
Bra fat
Back fat
Under the buttocks ("banana rolls")
Inner and outer thighs
Upper arms
Because our med spa has two CoolSculpting systems, we can treat two different areas of the body at the same time (a technique called DualScultping®). This reduces the treatment time and the overall number of treatments you'll need.
CoolSculpting Treatment Areas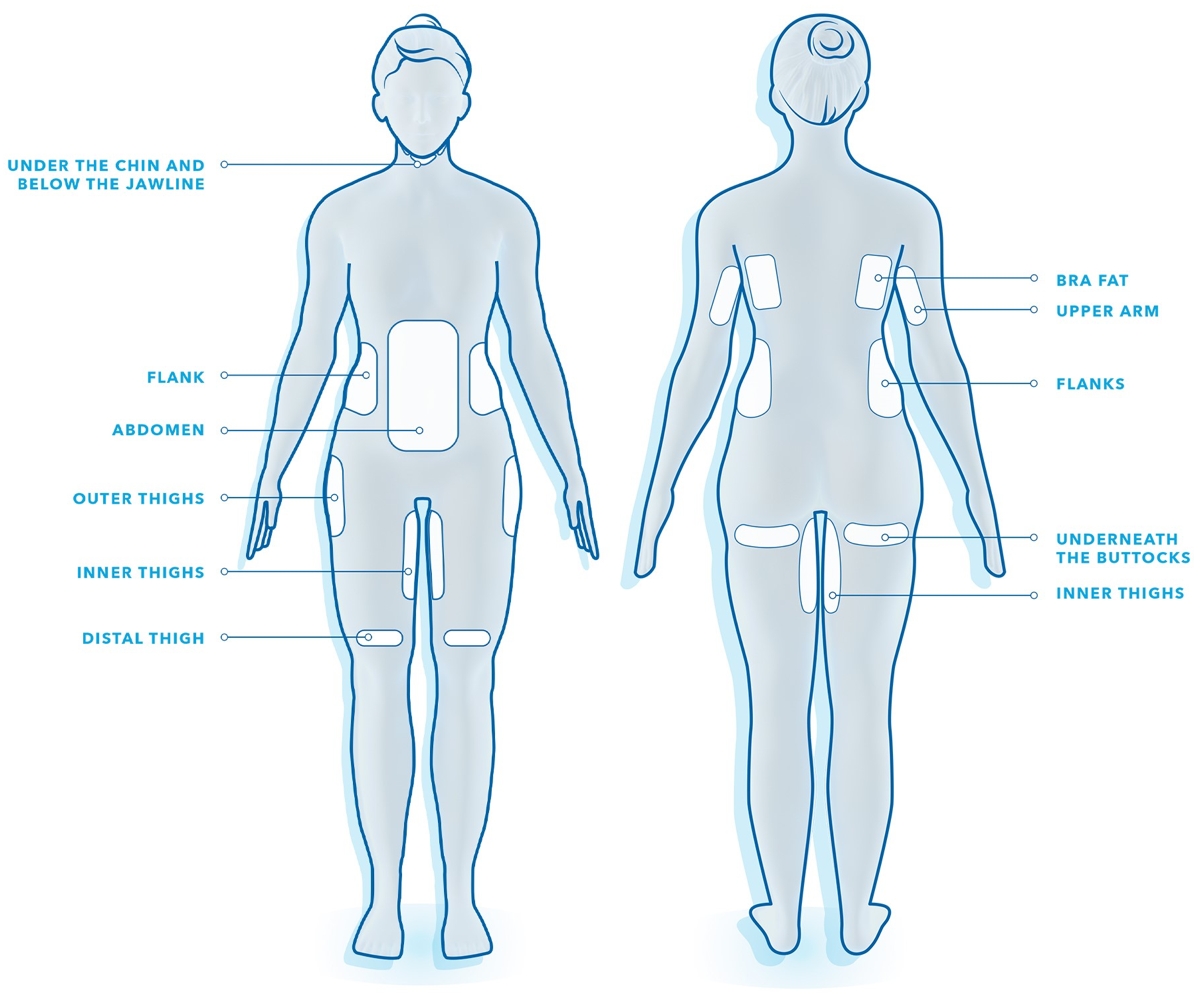 Demonstration
CoolSculpting vs. Liposuction
People often ask if they should get CoolSculpting or liposuction. Liposuction is a surgical procedure that requires recovery time. It can produce more dramatic results than CoolSculpting, but typically women and men who are good CoolSculpting candidates get excellent results without surgery.
What Happens During a CoolSculpting Treatment?
It is important to note that all equipment is sanitized and cleaned after each treatment. At the beginning of the CoolSculpting procedure, the targeted area is drawn into a cooling device, which brings the fat to a precise temperature. The skin's surface and tissue surrounding the targeted fat remain unharmed because fat cells are destroyed at a higher temperature than other cells.
During your treatment, you may bring in a favorite book or magazine, listen to music, or watch a show or movie. Some patients prefer to have the lights dimmed and they may actually nap. Once the treatment concludes, your provider firmly massages the treated area to break down the chilled fat cells. This is necessary for an effective outcome.
We recommend that you bring a light sweatshirt and warm socks to wear during your treatment, as you may feel a slight chill during the CoolSculpting session. Most patients return to work or their daily activities immediately following their treatments. Each treatment typically takes between 30 to 60 minutes, with a session averaging 2 to 4 hours to complete.
Meet our CoolSculpting Specialist
Testimonials
Start With a Complimentary Consultation
You can get all of your questions about CoolSculpting answered by a CoolSculpting specialist when you schedule a free consultation using the online form. You can also call us at (530) 885-3121 to make an appointment.
Uses
The CoolSculpting® procedure is FDA cleared for the treatment of visible fat bulges in the submental (under the chin) and submandibular (under the jawline) areas, thigh, abdomen and flank, along with bra fat, back fat, underneath the buttocks (also known as banana roll) and upper arm. It is also FDA-cleared to affect the appearance of lax tissue with submental area treatments. The CoolSculpting® procedure is not a treatment for weight loss.
Important Safety Information
The CoolSculpting® procedure is not for everyone. You should not have the CoolSculpting® procedure if you suffer from cryoglobulinemia, cold agglutinin disease, or paroxysmal cold hemoglobinuria. Tell your doctor if you have any medical conditions, including recent surgery, pre-existing hernia, and any known sensitivities or allergies.
During the procedure, you may experience sensations of pulling, tugging, mild pinching, intense cold, tingling, stinging, aching, and cramping at the treatment site. These sensations subside as the area becomes numb. Following the procedure, typical side effects include temporary redness, swelling, blanching, bruising, firmness, tingling, stinging, tenderness, cramping, aching, itching, or skin sensitivity, and sensation of fullness in the back of the throat after submental or submandibular area treatment. Rare side effects may also occur. CoolSculpting® may cause a visible enlargement in the treated area, which may develop two to five months after treatment and requires surgical intervention for correction. Please see full Important Safety Information for additional information.
Results and Patient Experience May Vary.